Mountain Biking around Damascus Virginia
March 29 - 31, 2001
Mountain Biking is probably my favorite hobby, and aside from doing it with my wife, I especially like doing it with my brother. But, he lives in Georgia and I'm in Maryland! The easiest way around this problem is to meet half way (well, as near to half way as you can get). That combined with the wonderful trails of the Mt. Rogers National Recreational Area is why we head out to Damascus, Va at least once every year. Damascus is on US-58 about 10 miles east of Abingdon. You can click the map below to get a better idea of the area.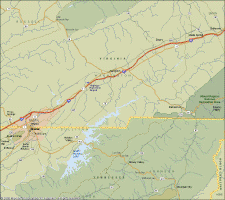 For picking out and planning rides, I highly recommend the book "Mountain Biking the Appalachians : Northwest North Carolina Southwest Virginia" by Lori Finley & Thomas Horsch. Other great information about the area (including maps, descriptions, etc) can be found online at http://www.bikeguy.net/
This year we rode:
Old 84 - Flat Top Loop
Picture Gallery #1 - Old 84 - Flat Top Ride
Picture Gallery #2 - Old 84 - Flat Top Ride
Picture Gallery #3 - Old 84 - Flat Top Ride
Lum Trail to Iron Mountain to Damascus
This page was last updated on 05/07/01.