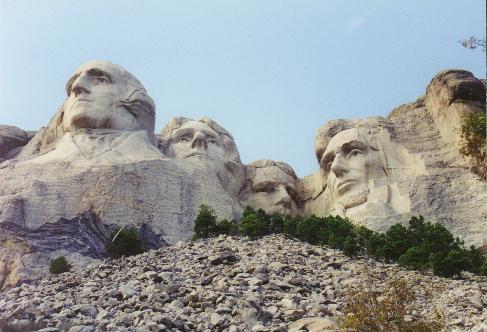 Mount Rushmore N.M. in SD is situated at 5,725 feet. Gutzon Borglum was the master mind behind this monument-- the world's largest sculpture. Work progressed on the sculpture from 1927 until the death of Borglum in 1941. The total cost of the monument at its completion was about $1 million dollars.

Chris and I took many pictures of the monument from several different angles. On the newly installed boardwalk, we came within a few hundred feet of each president and snapped some awesome photos.
Devils Tower was the first national monument established in 1906 by Theodore Roosevelt. The tower was created when molten magma forced its way into overlying sedimentary rocks and cooled underground. The cooling magma contracted and fractured into hexagonal columns. With time, the sedimentary rock eroded and exposed the 867 foot tower (from base to flat top). This 1,000 foot diameter rock is a mecca for technical rock climbers and sacred ground to the Kiowa Indian people of the Great Plains.

As Chris and I walked around Devils Tower, we saw several people trying to climb its steep ledges. From where we stood, the climbers looked like ants.